Regular price
Sale price
$11.95 USD
Unit price
per
Sale
Sold out
If there's one thing worse than a Steely Dan cover band, it's becoming an all-you-can-eat mosquito buffet. If you're the de-facto mosquito magnet, our all natural bite relief salve is a chemical free solution to stopping the itching, stinging and irritation.
Our CBD Bite Relief is more than just a quick fix for those pesky mosquito bites. It's also a commitment to a sustainable lifestyle. Our salve is carefully packaged in eco-friendly packaging for those who care about the environment. Our product is paraben-free, plastic-free, non-toxic, and cruelty-free making it the perfect solution that is safe for you and the environment.
Whether you're hiking, camping, or just enjoying a relaxing day outside, F&@K Off CBD Bite Relief is the perfect choice for anyone who wants to protect themselves from those flying vampires while keeping their lifestyle eco-friendly.

Ingredients

42.0 mg CBD Oil

Organic Olive Oil

Organic St. John's Wort Herbal Oil

Beeswax pastilles

Organic Rosehip seed oil

Organic Essential Oils: Rosemary, Lavender, Black Pepper, Ginger, Sandalwood

Organic Vitamin E oil
How To Use

To use, simply apply a small amount of salve to the affected area and massage gently until fully absorbed. Our salve comes in a 2 oz container, so you can easily carry it with you wherever you go. With 42.0 mg of CBD Oil, organic oils, beeswax pastilles, and essential oils like rosemary, lavender, black pepper, ginger, and sandalwood, our salve provides natural and effective relief for a variety of skin concerns, including:

Mosquito bites: Apply a small amount of salve to the affected area and gently massage until absorbed. Reapply as needed for relief from itching and discomfort.

Other insect bites: Our salve is effective for providing relief from other insect bites like black flies, chiggers, and ticks.

Minor skin irritations: Use our salve to soothe minor skin irritations like rashes, redness, and dryness.

General skin care: Apply our salve to dry or chapped skin to moisturize and nourish.
Share
View full details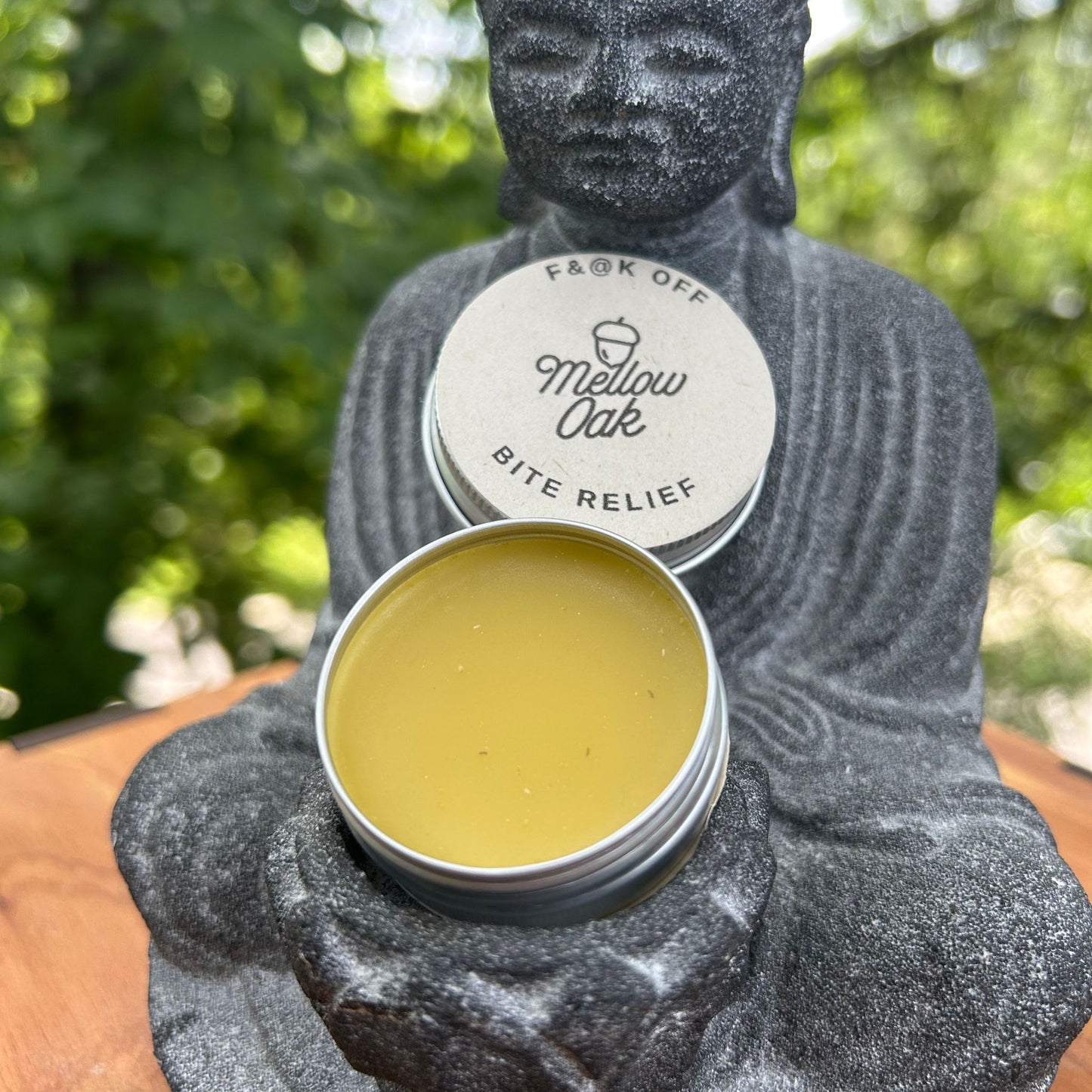 This stuff works!
I get destroyed by mosquitos anytime I'm outdoors without repellent in the summer. This salve has been a life saver! Instant relief of itching and skin irritation. Also smells delicious
The ultimate CBD anti-itch cream for mosquito bites
Technically, it's more of a salve, but you know what I mean. Our CBD Bite Relief is an anti-itch salve ideal for neutralizing minor irritations like bug bites, scrapes and scratches. Dip your finger in the jar, gently apply it to the itchy spot, and enjoy relief in seconds.
Free Shipping on orders over $50

The almighty free shipping. Why not add something for yourself (or a friend) and save some cash? Limited to orders in the United States.

Satisfaction Guaranteed

Don't like something you buy? We'll refund you in full. We'll have a few questions because we want to do better, but we promise to be cool about it.